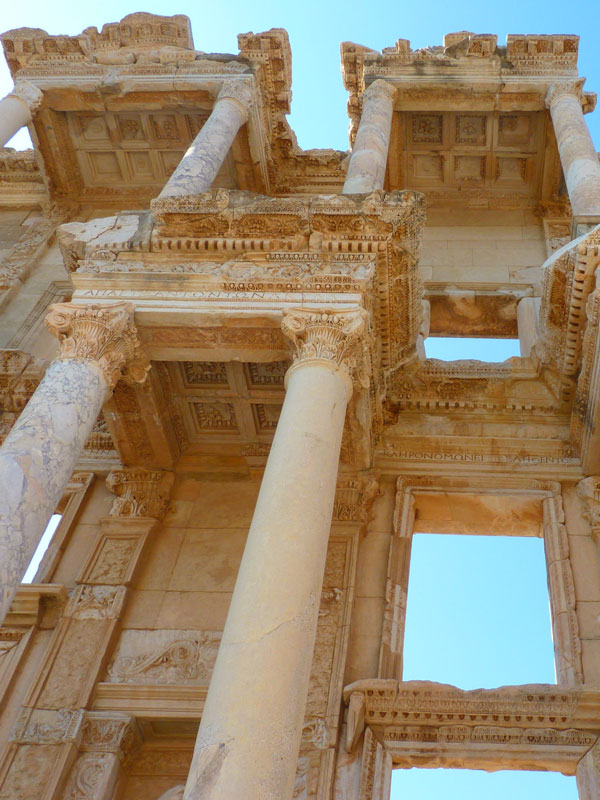 Classical Wonders
7-Day Private Tour: Istanbul–Cappadocia–Pamukkale–Ephesus
Take our classical tour to explore the mysterious and diverse Turkey. History, culture, customs, religion, and natural wonders — this tour will satisfy your curiosity.
Highlights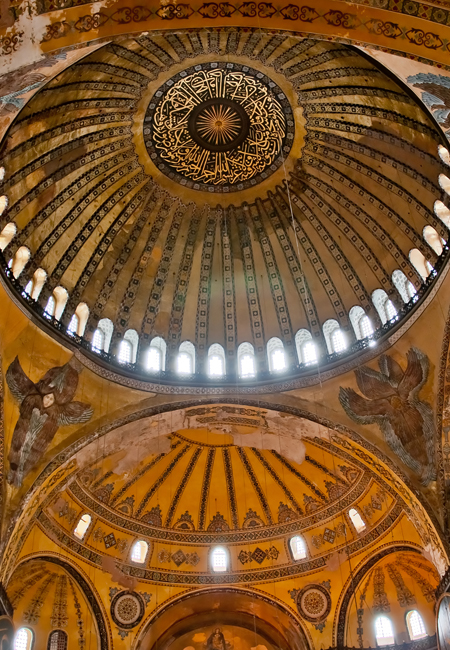 Stroll in ancient cities and trace three empires: Roman, Byzantium, and Ottoman.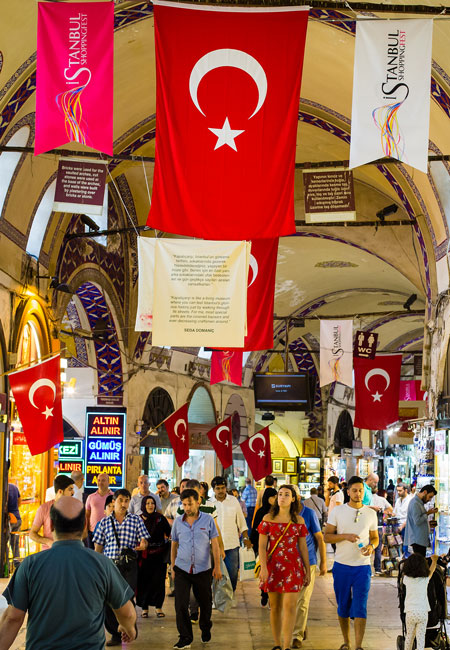 Lose yourself in the biggest and oldest bazaar.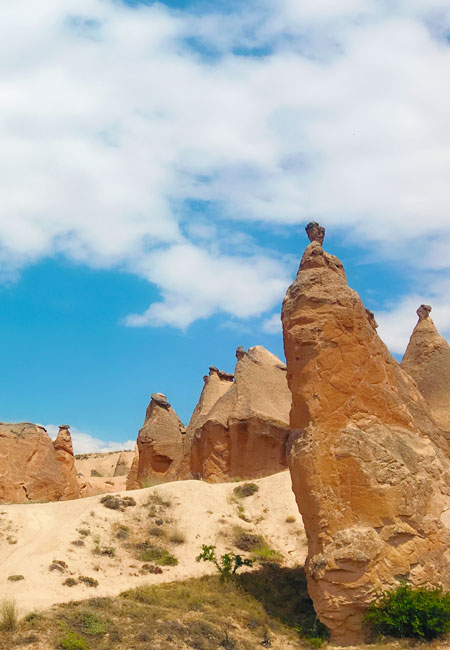 Ascend to the Earth's moon and look for fairy chimneys in the valleys of Goreme.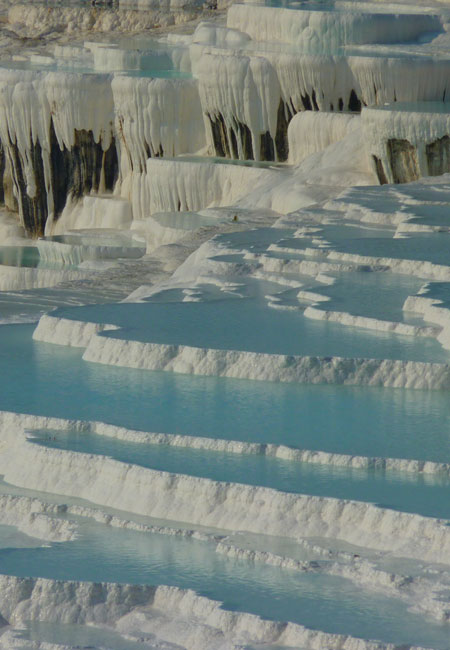 Tread water at the 'Cotton Castle'.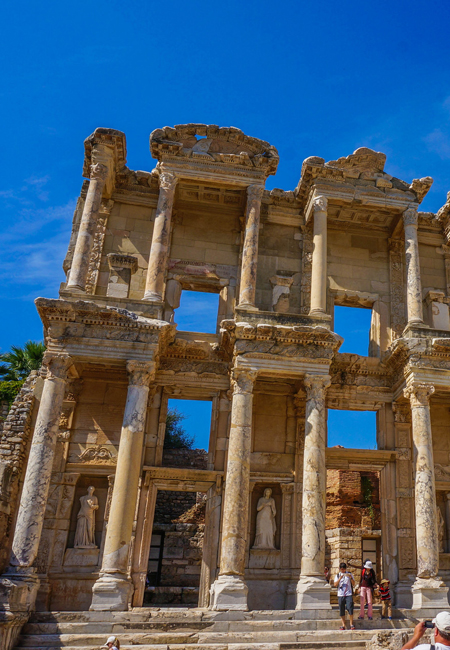 Smell the history in Turkey's Pompeii — Ephesus.
Itinerary Details
The itinerary below is only a typical sample and you may alter any aspect of it. Tell us your needs and our travel advisors will tailor-make it to meet your requirements.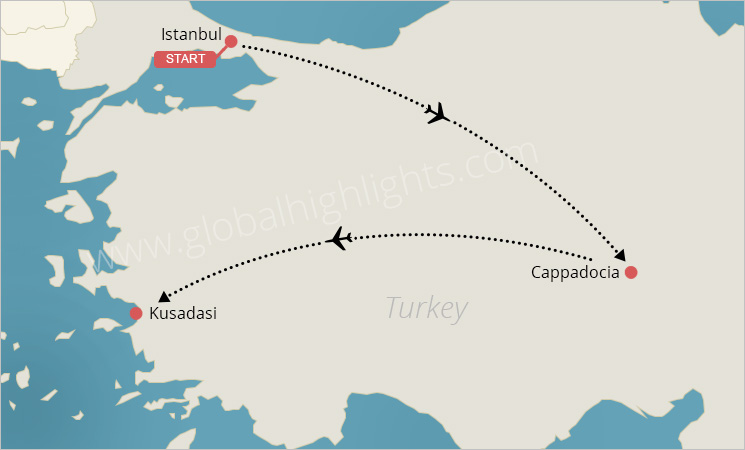 Open All
Welcome to Turkey. Upon arrival, your private guide and driver will greet you at the airport holding a card with your name on it and will escort you to your downtown hotel to check in. You will have the rest of the day to recover from jet lag or wander around the area surrounding your hotel at your leisure.
Hotel options:
Best Western Empire Palace 
Legacy Ottoman Hotel
Day 5
Cappadocia to Kusadasi
Day 6
Pamukkale and Hierapolis
Day 7
Ephesus and Departure
Price Includes

One-to-one consultancy

Knowledgeable local guides

Private drivers/driver guides and vehicles as listed

Hand-picked hotels

Buffet breakfasts and meals as listed

Entry to all attractions on the itinerary

Transportation as listed

A 24/7 helpline while traveling
Trip Notes
Each part of the itinerary above can be customized. Feel free to let us know your preferences and we will be pleased to adjust the elements for you.
1. Extend the Tour
Gallipoli and Troy: Add 2 days to see the Dardanelles Memorial, Brighton Beach, Troy, and Pergamum.
Fethiye and Kars: Add 3–6 days for Oludeniz, Butterfly Valley, hiking in the Lycian Way, Calis Beach, the ancient rock tombs, Kaputas Beach, and a cruise tour of six or 12 islands.
Ankara: Add 2 days to see Ataturk Mausoleum and Lake Abant.
Antalya: Add 2 days to see Perge, Aspendos, Termessos, and Duden Waterfalls.
More destinations: Bursa, Konya, Cesme, Alacati, Bodrum, and Safranbolu. Feel free to tell us the places you're interested in and we will provide you with more information.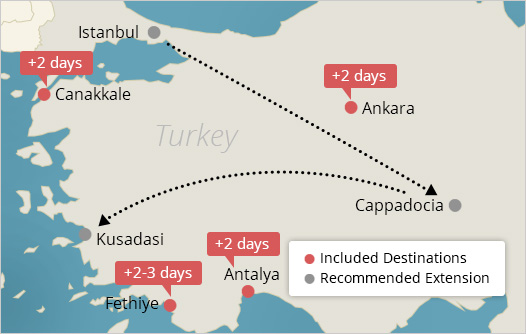 2. Accommodation
Many types of accommodation are available including 5-star hotels, superior 4-star hotels, the best value 3-star hotels, or popular boutique hotels in various Turkish styles. We will select the perfect one for you.
3. Transportation
We usually recommend flights to connect destination cities, which is more effective and saves time. Feel free to tell us if you prefer to experience the trains or buses.
4. Meals
Lunches are prepared in local restaurants for you to taste authentic Turkish food.
Please tell us your special dietary requirements, such as vegetarian, Indian, gluten-free, or halal. Your guide will take care of it for you.
Our Customer Reviews
We took the 5 day Yi Peng Festival your in Chiang Mai, Thailand. It was an amazing experience. We had two tour guides who were absolutely phenomenal. They answered all the questions we had and were always on time. It was a truly once in a lifetime trip and I would definitely recommend using them. I worked with Albee at Asia Highlights and she was very prompt with her responses. We especially loved the half day elephant tour. - Blanca Hernandez
The service was excellent. Pick up at time. Good organization. Driver was good. The best was all the help than we received for Leo, you are a professional person, enthusiast, kindly. Thank you so much Leo, We appreciate all your help and customer service. - Victoria Myers
The choice of over 40,000 travelers since 1998. What we offer:
Easy Planning
Local experts help you save time and money
Flexibility
A trip designed for you and by you
24/7 Service and Support
Inquire and get a quote within 1 day