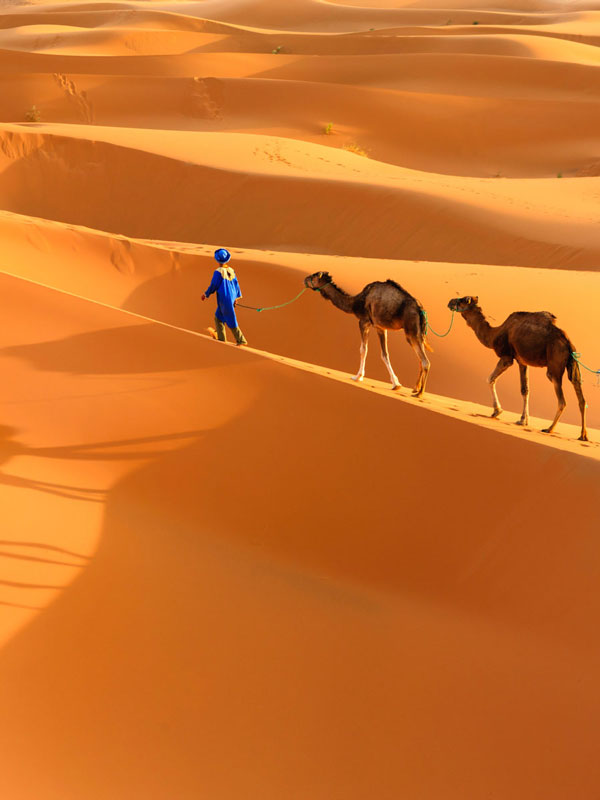 Morocco Tours
Salaam Aleikum! Welcome to Morocco, an intoxicating fusion of cultures, history, nature, colors, and diversity. Our Morocco tours bring you close to this unique North African nation.
Travel from timeless golden dunes in the Sahara Desert to bustling bazaars at Marrakech and age-old remains of civilizations past (the 9 UNESCO sites), meet Berber nomads in their homes, drive through the Atlas Mountains, meander the winding lanes of medinas near the Atlantic Ocean — all in magic Morocco, an exotic destination.
Why Us
Global Highlights is about "Discovery Your Way".
Founded in 1998, we are proud to have 20+ years of providing travel services, covering 15+ countries, to over 200,000 valued customers and we have been awarded TripAdvisor's Certificate of Excellence every year.
We are the choice of discerning travelers: excellent for families, small groups, and individual tourists who want flexibility, local expertise, personal service, and to be in control of their tour.
Driven by our passion for travel, we continue to innovate and create beautiful journeys for discerning travelers!
Best Private Morocco Tour Packages for 2020/2021
The itineraries below cover the popular travel destinations in Morocco, providing inspiration for your Moroccan tour. These can be tailor-made for your visit to sample the mystique of this country.
Private Morocco Mini-Tours and Day Tours
Because of short distance and convenient transportation, Morocco becomes backyard of tourists from Europe. These Morocco mini-tours and day tours are suitable for people who have a short stay in Morocco or for people who needs a side trip from main tourist cities of Morocco.
Private Tours of Morocco and Neighboring Countries
These private tours combine Morocco with its neighboring countries: Spain and Tunisia. They are close to each other, but different as well.